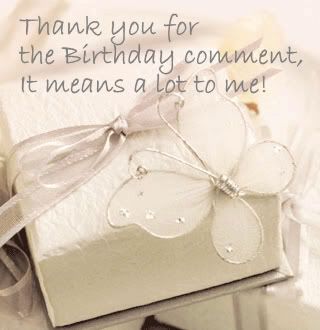 God gave me a gift of 86,400 seconds today. I'm using one of them to say "Thank You!"
Thank you to everyone that stopped by my blog, left a message on Facebook, sent money to my Paypal (oh wait! Nobody did that!) or e-mailed me privately to send birthday wishes. I've had a great birthday (so far) this month *smiles*!
Here is my contribution to

Friday Fill-Ins

this week:
1. Pickles

are good when they are bread and butter pickles

.
2.

I LOVE being

at home.
3. The snow is

only in the mountains here in Southern California

.
4.

I believe that there is a subtle magnetism

in nature

which if we unconsciously yield to it, will direct us aright - Henry David Thoreau
5. It's 5:16pm; that means

that I should have left work and be heading to the grocery store.
6.

A good pair of good-fitting jeans at a good price

is hard to find.
7. And as for the weekend, tonight I'm looking forward to

chillin' (don't I write that for every Friday Fill-In?!)

, tomorrow my plans include

making some decorative pillows

and Sunday, I want to

play it by ear

!
Looking for my OWOH giveaway? Click
HERE